The Oscars have come and gone, leaving us all with petticoats on our floors, bobbypins stuck in our hair, and lipstick on our pillows! OK, maybe not all of us. I'm probably one of the few to wear a petticoat these days! Or even to put my hair up. My goodness, how casual the world is getting!
I thought I would check in, since I haven't written recently. I was really on a roll there for a few weeks! But this project is a pretty drawn-out one. There's no script and they aren't casting for a long while, so it's just me doing my homework for now. Last week I completely lost my voice, so I couldn't work on accents or French or Dutch or anything! But I'm better now, just in time to attend some Oscar parties…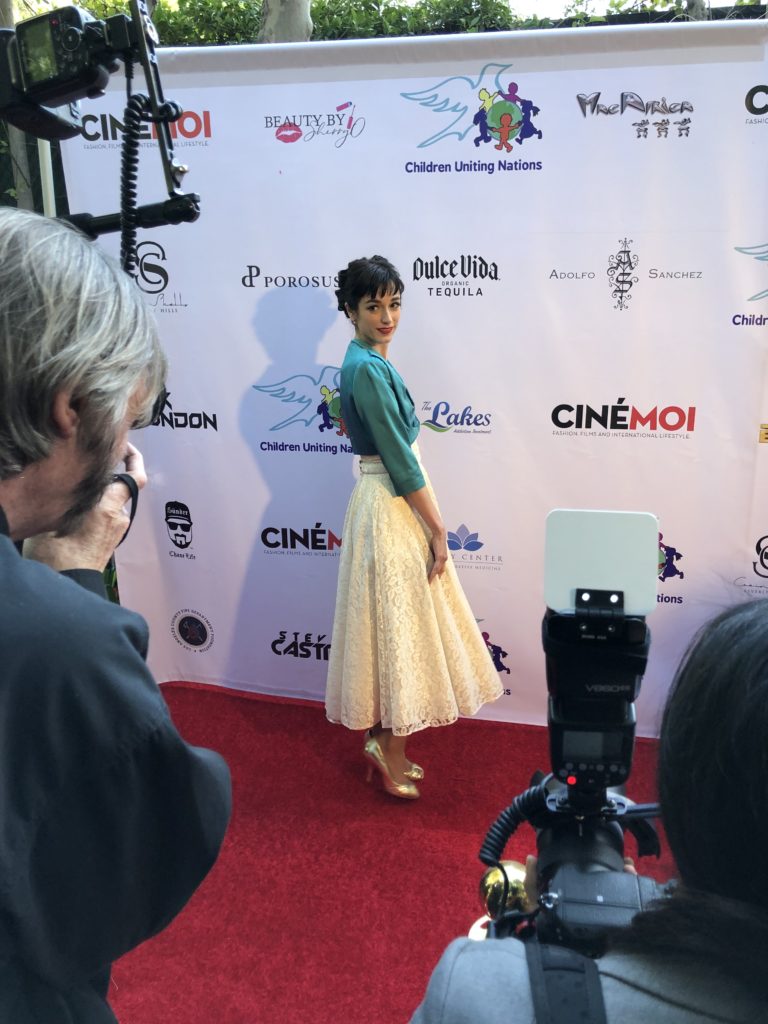 I decided to wear the dress I based on Audrey's Oscar dress, under a pretty teal blue bolero. The viewing party I got to attend was held at the old Harry Warner estate in Beverly Hills. I SOOOO wanted to see the front of it, and the inside of it, but we were restricted to the back yard, and had dinner and watched the Oscars in a large tent. The pasta was fabulous… I don't know what was in that sauce… it was sort of a smoky flavour… I loved it!
I missed probably half of the Oscars because I was in conversation, or the screen was blocked, and we had to leave a bit early for this other Oscars after-party I was committed to, but all in all it was a good evening!
And now I thought I'd make my own little thank you speech here! I'm just so grateful for everyone who has believed in me, who continues to believe in me and offers their support and assistance in reaching my goals, especially this one. The film industry is a tough one to break into, and to be in, and a person can definitely get discouraged when all you hear is no, no, no. The week I learned about this Audrey project, I was taking time for myself to decide if I would make the decision to quit pursuing acting for good. I was really re-evaluating my life and gathering courage to move in another direction. And then one sleepless night in London, around 3AM I believe, I was scrolling through Facebook and saw the Variety article. It was as if the universe were saying 'no, don't quit yet. Here is the project you've been waiting for, here is the thing that will re-light that fire, that passion for acting that got lost along the way. Give everything you've got, one more time, and if it's not enough, then you are free to stop. And if it is enough, then you've finally achieved what you came to L.A. to achieve.' And it really means a lot to me to have you, my lovely reader, cheering me on. Because I may have dreams and goals but I'm not the most self-confident person. And I can't do this alone. Every word of encouragement and every kind gesture matters and makes a difference, and if in a year from now I can be thanking you again for getting me into my dream role, you have no idea how happy I will be!