I'm a little behind on my posting here, but you have not been forgotten! Have I been forgotten? Give me a comment to let me know you're still out there! 🙂
It's been a busy time. After Switzerland I went to Holland, where I stayed for about 9 days. From there I went to visit friends in Fontainebleau, before arriving in the south of France. I spent weeks looking for an apartment (don't even get me started on the French "CDI") and finally moved in and have been dealing with boxes, and finding furniture and all sorts of things like that. But let's go back to Holland!
Audrey spent her childhood in Arnhem and Velp, during World War 2. I can imagine it looked quite different back then…. The house she and her mother and relatives lived in during the war is no longer there, replaced by a block of apartments. This is where the Dutch launch of Robert Matzen's book was held, back in September while I was visiting. When Robert told me the date of the book launch, I decided it would be a good time to visit, and it was! I met Robert in person, I saw Luca again briefly, and I made a couple of new friends as well. I have to admit, that even though I was trying to learn some Dutch, I failed in my mission to learn enough by September to be able to converse with anybody. Dutch words are not sticking in my brain! I'm not giving up yet though, of course. I really didn't study regularly, and that would make a difference.
Anyway, I once again created a little video tour of as many places as I could manage, which you can view here on YouTube:
Soon after arriving in Arnhem, I decided I needed a little change, and sought out a hair salon nearby. It turns out that I was very close to one apartment building that Audrey lived in briefly before the war, on Jansbinnensingel, and on that street there were several salons. And as luck would have it – there was one right in her building! So of course I went to that one.
The next day, I attended the book launch of Dutch Girl, along with perhaps 200 other attendees at Rozendaalselaan 32, where Audrey spent her war years. It was a great turnout. Several people gave speeches, in Dutch and in English. A ballerina performed a short piece to the music Audrey danced to in Secret People, Waltz No. 2 by Chopin. A statue by Yvon van Wordragen was unveiled outside in the front garden by Luca. After this celebration, we all moved to a nearby church (and I got to ride in an old fire truck!) where Luca and Robert were interviewed and a reception was held. Of course I got my (English) book signed.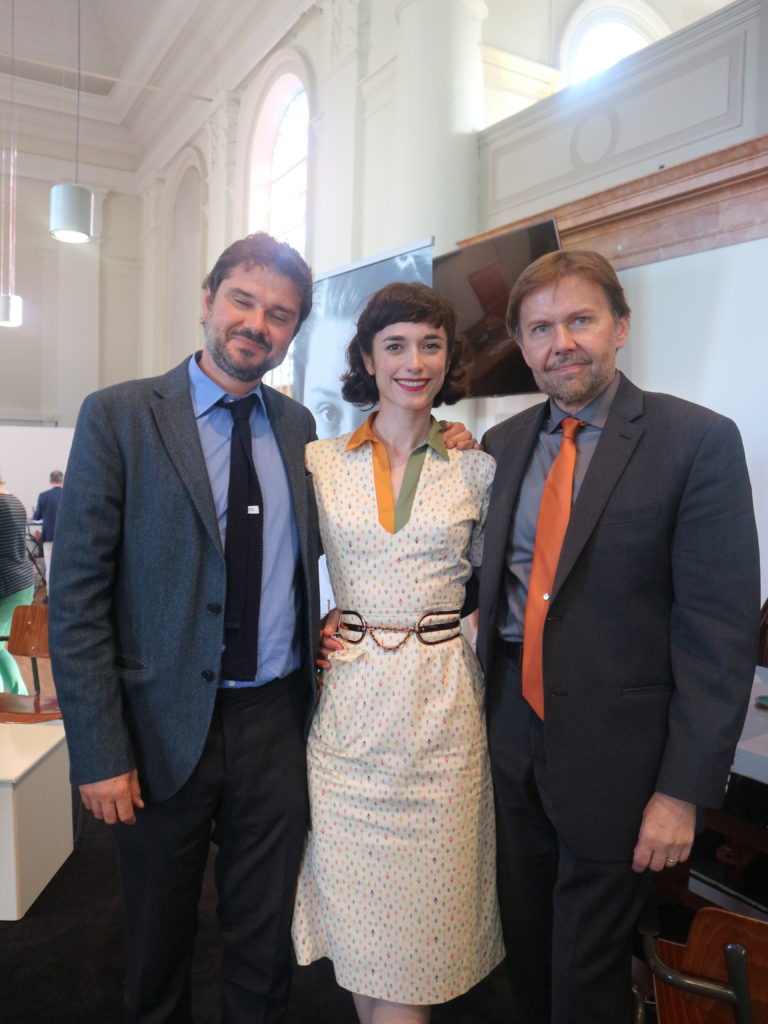 The rest of my stay was spent exploring Arnhem and spending some time with my new friends. I really look forward to my next trip… which actually will be quite soon… 😉 I'm planning on having a very merry Dutch Christmas!